SmartZipper Pro Help Document
 1.Toolbar

1 Open:Open the selected local directory / archive. We recommend that you open the root directory as current directory in order to experience the best function of SmartZipper Pro
2. Add: If you are browsing a folder, it will pop up compression options interface to create an archive by clicking "Add". Or if you are viewing an archive, you can add files into the archive by clicking "Add" button.
3. Extract to: Unzip the selected archive.
4. Delete: Delete the selected file from the archive. Please be notified that you can only use the function when browsing archive.
5, Quick Look: Preview files with System Quick Look
6. Search: Input the file name you want to search in the search box ,SmartZipper Pro will search the related files in the current directory and its subdirectories. You also can search files using wildcard search, such as *.png.
2.Compression Option Interface
1.General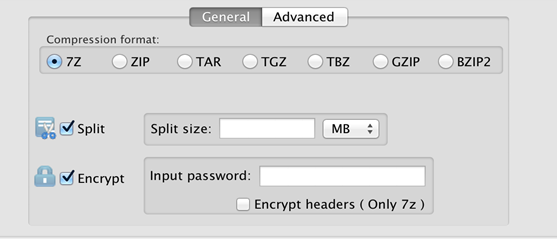 1.1. Compression format: Formats of the archive you want to create.
1.2. Split: Split the large file to many small archives.
1.3. Encrypt: Add a password to encrypt the archive. Using "Encrypt headers" mode has a better encrypt effect and this mode only supports to encrypt 7Z format.
2. Advanced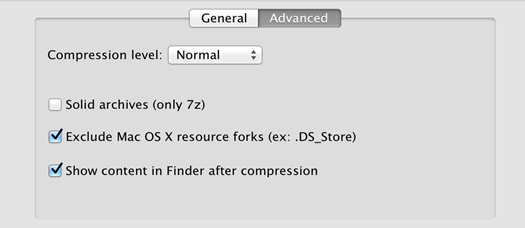 2.1. Compression level:Different compression levels own different compression rates.
2.2. Solid archives:The option meant to improve compression ratio providing a wider context for compression algorithm while compressing multiple files.
 3.Browser Interface 
1. Display the path of the file you are viewing, you also can click the path to fall back to the parent directory. 

2.Body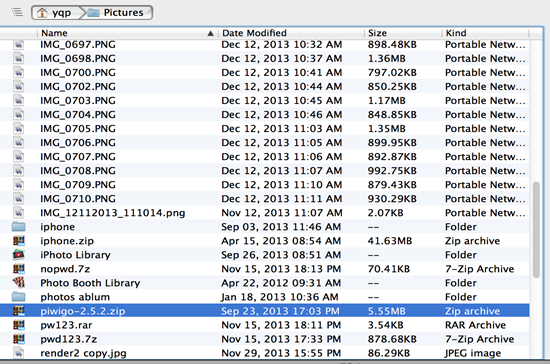 2.1.Double-click an archive to view files in it.
2.2 Drag & Drop folders / archives to the browsing list from Finder
2.3 Drag an archive from the list to Finder to unzip the archive.
2.4. Quick preview the selected file by pressing down "Space"
2.5. Double-click an image to open the built-in image viewer.
2.6. A non-image file will be opened with the system default application when you double-click it
4.Preference:
Click "SmartZipper Pro" on the menu bar, then click "Preference" to pop up the preference interface.